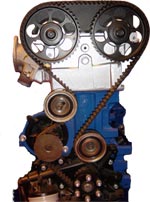 Where is the cambelt located?
The cam belt is usually protected by plastic covers to prevent ingress of foreign objects . It is the drive belt connecting camshaft & crankshaft .

Some people get confused between auxiliary drive belts and cam belts.

What cambelts are made from?
Cambelts are usually made from a rubber based compound to provide flexibility with a cord for strength. Rubber deteriorates over time. The belt can be damaged and its service life shortened by incorrect handling.
Getting the timing right
The Cam timing belt provides synchronisation between engine components . If fitted incorrectly the engine may fail to start or run erratically. In some cases major engine damage may occur.
Cambelt replacement can be a complex job requiring specialist skills and dedicated tools.

What causes the cam belt to fail?
Oil & fluid which leaks onto the belt can be injected into the belt as it runs over the pulleys, this can vary the dimensions of the belt and cause the teeth to not mesh with the pulleys.

Seizure or collapse of bearings of idler pulleys, pumps etc, can cause the cam belt tension to be lost allowing the belt to jump the teeth on sprockets causing loss of syn