5 Core PVC Insulated Automotive Electrical Cables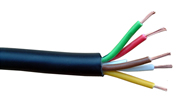 Five Core Cable Part No
Main Color
Main Color
Main Color
Main Color
Main Color
Cable conductor Specification
Outer Sheaf Colour
Description
Approx
Current
Rating*
Nett Price
(excl VAT)
SARB500

9/0.3 mm

Black

30 Metre roll of Black sheaf Five multistrand copper core automotive cable with Yellow / White /Red / Brown / Green wires

5.75 A

per core

£27.47 per roll 30 metres
5 core automotive electrical cable is particularly useful when wiring vehicle or trailer lighting and control circuits

Extra cable protection can be added by using flexible conduit

Copper cored cables : The conductor is specified by cross sectional area in mm sq.

Always route vehicle cables to avoid chaffing of insulation against moving parts of machinery.

Always fit adequate fusing to protect the cable.

Calculate the correct size of cable required using Ohms law and take account of voltage drop over distance of cable run and temperature or environment where cable is placed.

Supplier information:
Mail order automotive and marine electrical components for wiring car , van , hgv commercial, bus, construction plant, marine applications , delivery direct from distributors warehouse. Cable and wiring products are brand new top quality components supplied by a reputable supplier.
There is a full range of automotive wiring accessories suitable for professional and motor trade use within the motor vehicle repair industry.