Vehicle Air Conditioning Compressors
We supply or supply and fit a wide range of cab air conditioning compressors for Car Van Motorhome Truck Bus Agricultural Tractor Combine Construction Plant Bulldozer Loading Shovel Excavator Forestry Plant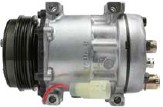 Mobile Air Conditioning and Autoelectrical Service covering Shrewsbury, Oswestry, Whitchurch, Telford, Shropshire and Welshpool Mid Wales areas.
Telephone 01743 884888 or mobile 07703 558610 www.autoelectrics.net
Air Conditioning Compressor - Purpose
The air conditioning compressor pumps refrigerant around the vehicle air conditioning or refrigeration system as a gas. Changes in state of refrigerant occur in different parts of the air conditioning system as condensation and evaporation takes place.
AC Compressor Operation
Low pressure, low temperature refrigerant gas is drawn in to the through the compressor suction port.
Compression of refrigerant gas raises both pressure and temperature.
High pressure refrigerant gas exits from the compressor discharge outlet port causing refrigerant flow around the air conditioning system.
The compressor can only compress gas. If slugs of liquid enters the compressor component damage will result.
Aircon Compressor Failure
Apart from general wear and tear, vehicle air conditioning compressors can deteriorate due to lack of lubrication and moisture damage causing rust which may lead to mechanical damage and possible seizure.
Filter drier dessicant packs deteriorate over time and may break up causing debris to pass around the air conditioning system. Blockage at thermal expansion valve and internal compressor components may result. Diagnosis using pressure guages may indicate excessive high pressure reading. Compressor operating at too high pressure may lead to subsequent component damage.
Compressor clutch failure results in loss of compressor drive and excess noise.
Incorrect lubricants may also cause premature failure.
Electromagnetic Clutch driven Compressor
An electrical control circuit monitors temperature demand and refrigerant pressures.
The compressor clutch pulley is belt driven.
Providing correct conditions exist as the engine rotates, the control circuit causes the compressor relay to switch power and activate the electromagnetic clutch solenoid.
Compressor clutch engagement causes rotation of the air conditioner compressor pump to create pressure and encourage flow of refrigerant around the air conditioning circuit.
Air Conditioning Compressors supplied replacing :
CARGO
DENSO
HELLA
SANDEN ; SD5H14
SD7H15
SD7H15HD
TECUMSEH
Electronically Controlled Clutchless Compressor
Some vehicle refrigeration and air conditioning systems feature an electronically controlled compressor which may have variable rotational speed, variable displacement, and refrigerant metering control to reduce power consumption, fuel, and save energy.
Compressor Power Source
Commercial vehicle refrigeration systems may be powered by a diesel engine or electric motor and inverter.
Most vehicle air conditioning compressors are engine pulley driven via an auxilliary drive belt, some systems eg truck cab fridges and roof mount air conditioning units may use hermetically sealed electric compressors.
Vehicle Computerised Electronic Diagnostics
Vehicle climate control systems may feature an electronic control unit , input sensors, and output actuators.
If a system fault is detected this may result in the electronic control unit logging fault codes and system lock out preventing air conditioning compressor operation.
Supply of vehicle air conditioning compressors repairs to : Vans * Trucks * Minibuses * Coaches * Ambulance * Construction equipment * Quarry plant * Agricultural machinery * Marine * Motorhome
Compressor Oils
Certain vehicle air conditioning systems may require special compressor lubrication oils injected in to the refrigerant circuit during service.
A vehicle refrigerant leak may cause loss of this compressor lubrication oil and eventually result in compressor damage and seizure.
There is a variety of oil specifications for various types of vehicle air conditioning compressors and operating parameters.
Synthetic Refrigeration Oils
PAG (Polyalkylene Glycol) Oils
PAO (Polyalphaolefin) Oils
POE (Polyolester) Oils
Mineral Refrigeration Oils
Possible Causes of Air Conditioning Compressor Failure
Moisture and the Air conditioning Compressor
Moisture and liquid can damage AC compressors because moisture within the refrigerant circuit can mix with oil to form acids which corrode the air conditioner system components.
Dirt ingress into refrigeration circuit causing component wear
The receiver dryer acts as a filter to remove some moisture from the refrigerant circuit.
Aircon Compressor Lubrication
Lack of Refrigerant oil in system causing insufficient lubrication resulting in compressor damage or seizure.
Incorrect Refrigerant Oil :
POE oil and PAG oil do not mix well
Liquid slugging of the compressor
Liquid refrigerant entering the compressor may cause damage.
Refrigerant circuit blockage
System flow restrictions may cause the compressor to run hotter than normal.
Possible causes:
Receiver Dryer Filter dessicant pack disintigrated causing blockage of system
Thermal Expansion valve stuck or blocked
Rubber hose deteriorated or collapsed internally causing blockage
Vehicle Air Conditioning Compressor Refrigerant Leaks
Air conditioning or refrigeration systems should not leak refrigerant.
However, due to automotive system design using compressors with open shaft seals, minor leakage can occur over periods of time.
If the vehicle air conditioning has not been used regularly the compressor shaft seal may lack lubrication then start to leak.
Vehicle manufacturers suggest periodic air conditioning system inspection and regas.
Other potential leakage points are compressor casing porosity , pipework o-rings and gaskets.
Leak detection methods may include Nitrogen pressure test, electronic leak detection, UV dye leak locator.
Vehicle Air Conditioning Compressor Replacement
Refrigerant Recovery
Prior to replacement of the vehicle air conditioning compressor, all refrigerant must be safely recovered.
Refrigerant recovery by F-Gas certified personnel is a legal obligation for air conditioning systems containing R134a (and most other refrigerants) prior to removing an air conditioning compressor or refrigeration gas circuit component.
System flushing to remove contaminants is recommended before fitting replacement compressors.
OFN Pressure test
A Nitrogen pressure test should be carried out to check for leaks after fitting new components before refrigerant is added.
Vacuum
Following system evacuation, a vacuum hold test is also advised prior to regas.
Regas
Air conditioning system recharge with specified refrigerant can be carried out using service ports.
There is a variety of service ports fitted to refrigeration and air conditioning systems which differ,
for example Low side R134a coupler, High side R134a coupler, Low side 1234YF coupler, High side 1234yf coupler, 1/4 SAE, Rotalock fittings.
Operational checks
High and Low side system operating pressures should be checked after regas.
Final leak checks.
Replacement Air Conditioning Compressor
Compressors or parts available for
BEHR , BOSCH , CALSONIC, CHRYSLER, DENSO, FORD, GM, HITACHI, KIKI, MAGNETTI MARELLI, MATSUSHITA, MITSUBISHI, PANASONIC, SANDEN SD6V08, SD6V12 , SD7B10, SD7H15 , SD7V16, SD508,SD709, SELTEC, SEIKO SEIKI, TECUMSEH, YORK, ER210L, ER210R, ZEXEL,
Oem Manufacturers names or part numbers used for reference purposes only.
Vehicle Air Conditioning Mobile Service Areas:
Shropshire - Shrewsbury - Atcham - Alberbury - Bayston Hill - Dorrington - Church Stretton Craven Arms - Hadnall - High Ercall - Shawbury - Market Drayton - Pontesbury - Rowton - Halfway House - Wem - Whitchurch - Much Wenlock - Ludlow - Oswestry - Whitchurh - Ellesmere - Abermule - Newtown - Telford - Shifnal - Cosford - Albrighton -Newport - Mid Wales : Welshpool - Middletown - Trewern - Guilsfield - Ardleen - Berriew - Llanfair - Poolquay - Churchstoke - Pentre -
We welcome air conditioning enquiries.