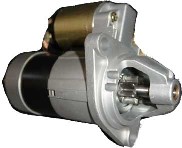 Starter Motor Parts by Mail Order
Please submit the enquiry form below for component price and availability.

Starter Motor Component Parts
Supply of individual starter motor component parts by UK mail order: armature, field coils, bearings, bushes, carbon brushes, permanent magnets, solenoids, solenoid caps, contacts, starter drives, pinion gears, casing yokes, etc to allow a starter motor rebuild or recondition.
Battery and Starter solenoid cables and fittings also available through mail order

Starter Motor Diagnostic Help Page Link

Oem names used for reference purposes only. All trademarks are property of their respective owners.
UK Starter motor component supply and distribution also available by mail order with paypal payment processing.
We can also supply tail lift motor , wheelchair lift motor ,
recovery winch motor , heater blower motor , washer motor ,
to help you keep on motoring !