Tractor Air Conditioning Shropshire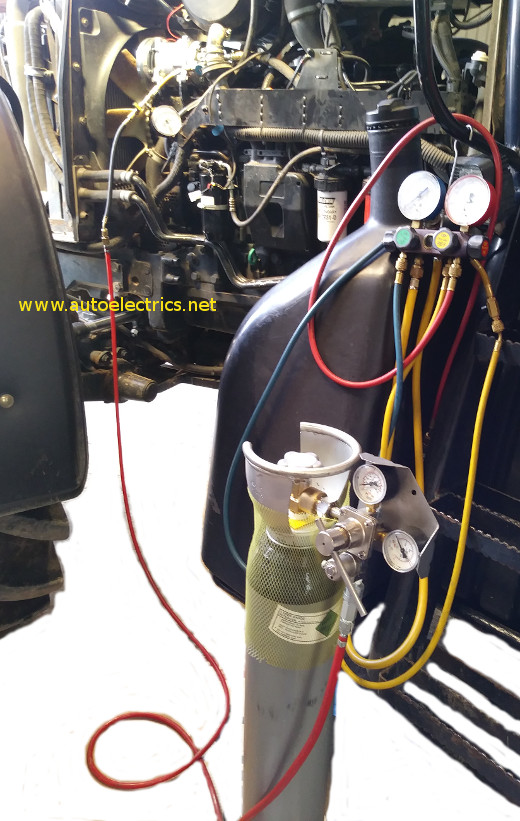 We service and repair a wide range of tractor air conditioning systems on farm for the Agricultural industry
Tractor Air Conditioning Mobile Service covering Shrewsbury, Oswestry, Whitchurch, Telford, Shropshire and Welshpool Mid Wales areas.
Telephone 01743 884888 or mobile 07703 558610 www.autoelectrics.net
TRACTOR AIR CONDITIONING
The tractor air conditioning cools in cab temperature to aid operator comfort during field and harvest operations. A large cab glass area aids visibility but can cause the cab interior to become very warm especially due to sunlight radiation when doors and windows are closed to reduce noise and dust levels. The clean filtered air provided by the tractor air conditioner improves the working environment in the tractor cab.
Tractor air conditioning refrigerant
Most modern tractors still use R134a refrigerant. We have facilities to regas R134a vehicle refrigeration systems on site where a power supply and access allows.
Tractor Refrigerant Recovery and Regas
Tractor Refrigerant recovery by F-Gas certified personnel is a legal obligation for air conditioning systems containing R134a (and most other refrigerants) prior to removing an air conditioning compressor or refrigeration gas circuit component.
Tractor Aircon Compressor
The tractor air conditioning compressor is normally belt driven via auxilliary belt from the crankshaft pulley. An electromegnetic clutch operates to engage or disengage compressor drive. The compressor sucks in refrigerant gas at low pressure and should discharge gas at high pressure when operating. Low refrigerant charge may prevent the compressor from operating.
Tractor Air Conditioning Condenser
The tractor air conditioning condenser on most machines is located in front of the radiator an can easily become blocked with dust and chaff from farm operations. Refrigerant leakage from the condenser may be noticed by an oily area or located using leak detection techniques such as refrigerant sniffer, UV dye , or leak detection spray.
Tractor Air Conditioning Evaporator
The tractor air conditioning evaporator is usually located in the roof space above the cab and will sometimes require cab roof removal to access.
Tractor Cab Blower Fans
Air at ambient temperature is drawn in to the tractor cab through filters by electric blower fans and moved across the evaporator where heat is removed from the air allowing a cool chilled airflow from cab vents.
Tractor Air Conditioning System Receiver Dryer
The air con system receiver dryer functions to remove moisture from the ac system. Replacement of receiver dryer should be carried out at manufacturers recommended service interval or whenever a compressor or aircon heat exchanger is replaced.
Leak test
A Nitrogen pressure test should be carried out to check for leaks after fitting new tractor air conditioning system components before refrigerant is added. Following system evacuation, a vacuum hold test is also advised prior to regas. Tractor air conditioning operational checks on refrigerant pressures and vent temperature can be carried out after regas then final system leak checks.
We welcome tractor combine crop sprayer and telehandler air conditioning enquiries.