CCTV and DVR Camera Kits for Vehicle Applications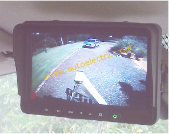 We Fit : Supply and Install Camera Kits for Commercial Vehicles - Vans - Minibus - Taxi - Construction Plant and Agricultural Machinery
Kits specified for your application
Single or Multiple Camera Inputs
Rear view reversing camera systems
Exterior Camera kits
Wired or Wireless Camera Systems Supplied or supply and installation
Monitor type and size
The in cab monitor displays images produced from camera, video player,or DVR video signal.
Resolution specification determines image quality and therefore amount of detail that can be seen.
Most vehicle camera kits we supply have colour TFT monitors.
Monitor size can be specified for your application.
Camera monitors can be specified to replace interior mirror
Observation systems with multiple camera video inputs to a single monitor displaying quad images can be supplied particular useful for crop flow monitoring through agricultural harvesting machines.
Monitors can be specified with selectable camera input to display the image from one camera only at a time. This is sometime less confusing to the operator.
Audio enabled monitors are available where sound monitoring of camera area is required.
Camera type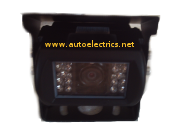 Camera viewing angle
Infra Red Light Emitting Diodes (LED) are used to enable night vision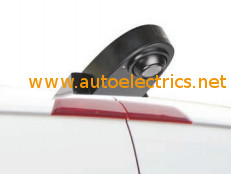 Van Rear Cameras
Over door mounted
for vans and minibuses
High level Brake Light Camera
Van Cameras mounted in a high level brakelight for Fiat Ducato, Citroen Relay, Peugeot Boxer, Mercedes Sprinter, VW Crafter, Ford Transit
Number plate light mounted cameras
HGV Camera Kits
Rear view cameras for safety and to reduce risk of impact when reversing
Side mounted safety cameras
0-776-33
A camera designed for side mounting for blind spot monitoring may be fitted to the left hand side of the truck to reduce risk assosciated with cyclists
Sound enabled Cameras with built in microphone enable noise monitoring near the camera
Lorry Cameras with visor to protect from bright sunlight glare
Left Turn Warning Sounder
LT audible warning provides an audible 'Vehicle Turning Left' warning when left indicator is activated
Side Detection System
0-870-30
Ultrasonic detectors may be fitted to the nearside of the truck tractor unit to detect objects and provide an in cab sounder to alert the driver
0-774-55
A low speed / indicator trigger module may be required to collect indicator signal from the truck and convert to steady 24v output may be required as an additional component
Camera Cable: type, length and connection
Screened cables help to shield and reduce interference which may disrupt picture quality.
Camera cables are available in a variety of lengths to suit vehicles ranging from a small car to a 60ft HGV and Drawbar trailer combination. Cables should be specified to as short as suitable for application to reduce signal losses
Camera cables often use either 4 pin aviation connector , RCA connector, or old type video-S connector.
HGV Susie cable camera leads for connecting articulated lorry tractive unit monitor system to semitrailer or drawbar trailer camera system available
Hard Wired v Wireless Camera Systems
Hard wired camera systems are more time consuming to install but do not suffer from interference
Wireless Camera Systems are quicker and easier to install. Analogue wireless cameras may suffer from interference and signal loss over long range therefore Digital Wireless Camera Systems are recommended.
Either type requires a power supply to camera and monitor
Aftermarket Replacement Camera Systems
Aftermarket replacement camera systems may be retrofitted in addition to the original manufacturers system which may have failed but is too costly to repair for example on municipal vehicles and excavators
Safety Reversing Camera Monitor systems for 12 volt or 24 volt vehicle applications
Standard or Lcd colour monitor and camera systems for safe reversing risk reduction / load flow monitoring applications.
Digital Video Recording DVR Camera Kits
DVR vehicle safety recording system types available with
Multiple camera and audio inputs
Date / timestamped images
Google map geo location and gsm speed monitoring
Motion Detection
Password protected hard disk storage
Removable SD card storage media
Typical use in public service vehicles , taxi, monitoring applications.
DVR camera system types may store images on a hard drive or removable memory SD card
To comply with Data Protection a warning notice should be displayed when using video recording camera systems.
Dashcams
Help defend against 'Crash for Cash' drivers
Dashcams can be hard wired in to vehicle electrics
Ultra Sonic Detection Systems
Applications as parking sensor and blind spot detection systems
Health and Safety Risk Assessment
Risk assessment requires enhanced vehicle, operator and public safety by increasing visibility around the working area.
High visibility is particularly important for emergency ,utility, municipal & construction service personnel whom may be working at the roadside and at particular risk from fast moving road traffic.
Driver or operator vision can be improved when reversing or turning by fitment of a vehicle monitor and cctv camera system which may be ignition switched to activate when the engine is running or switched by a reverse gear selection or camera switch. A monitoring system can also prove useful during loading / unloading and processing operation for example on Waste collection, tipping, combining, baling etc. where material flow needs to be monitored.
Environment
Environment where cctv is to be fitted should be considered particularly in Agricultural, Construction, and Industrial applications.
Vehicle operating environments can often include:
Vibration
Dust
Temperature
Moisture and Water
Chemicals such as liquids, gases, fuel, oils, grease.
Interference from spurious electrical signals
IP Rating
The IP rating of the camera kit is a two digit code referring to Ingress Protection against dirt dust and moisture. First digit of IP code refers to ingress protection against solids eg Dust. Second digit of IP code refers to Ingress protection against moisture. Higher the rating generally provides best protection.
Hackney carriage and Private hire vehicle fleets
CCTV in taxis and private hire vehicles can be used to help prevent crime and enhence driver and passenger safety. Useful guidelines are published in the Transport for London document guidelines for cctv in taxis and private hire vehicles (download link pdf). Prior approval is usually required from local licensing authority before installing cctv recording systems in hackney carriage and private hire vehicles. System approval may also be required together with appropriate data protection licensing.