Cab Air Conditioning Service for Construction Plant in Shropshire & Mid Wales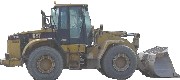 Mobile Service Engineer for Construction Plant Cab Air Conditioning
360 Excavator Cab Air Conditioning
Bulldozer Air Conditioning
Loading Shovel Air Conditioning
Quarry Plant Air Conditioning
Digger air conditioning
Telehandler air conditioning
FGAS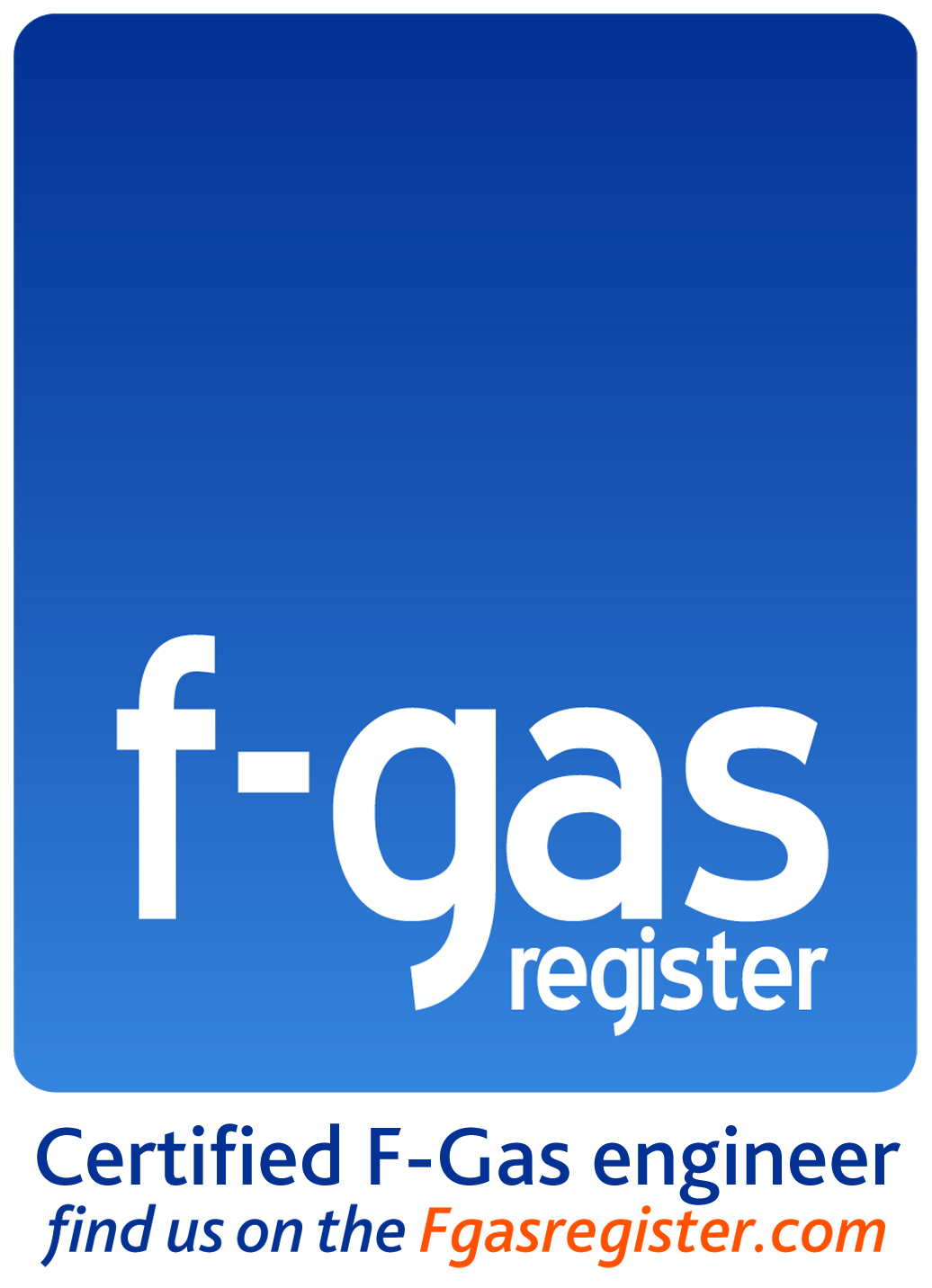 2079 class 1 trained service engineer travels to your machine on site to diagnose and repair the fault with your mobile plant cab air conditioning systems.
Benefits of Air Conditioning Systems fitted to mobile construction plant
Cab air conditioning offers many safety benefits:
Allow Cab windows and doors to remain closed reducing noise levels
Dehumidifies and demists cab glazing allowing improved operator vsion
Improve machine operator comfort and happiness
Reduces operator fatigue
On Site repair Facilities to service and repair excavator air conditioning systems * where component access allows including:
Air Conditioning System Leak Check
Excavator air conditioning leak checks are completed as required using:
OFN Pressure test of system
Electronic leak detector
Vacuum hold test
Cab Air Conditioning Regas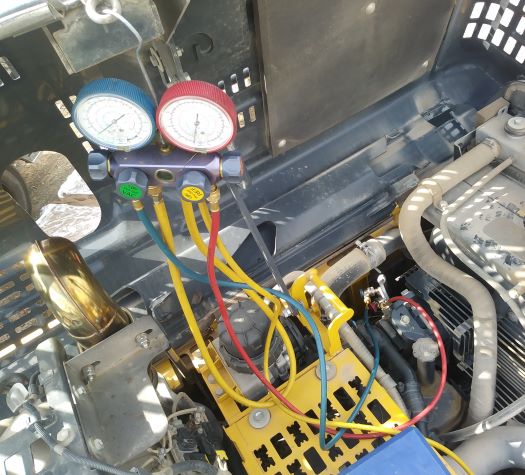 Providing a leak check is passed then the cab air conditioning system may be regassed using specified refrigerant.
Air conditioning system maintenance may include:
Refrigerant ID check
Refrigerant recovery
OFN pressure test of cab air conditioning system
Vacuum evacuation of air cinditioner systems
Refrigerant oil addition
Air conditioning system recharge with refrigerant to specified quantity
Air Conditioning system diagnostics
Cabin vent temperature checks
Component replacement
Metal air conditioning pipe repair
Flexible refrigerant hose assembly
Electrical system diagnostics
Cab climate control system computerised diagnostics.
Refrigerant
Most excavator air conditioning systems contain R134a refrigerant which requires handling by appropriately FGAS certified personnel.
Some older machines have air conditioning systems originally filled with R12 Freon which is now banned so may require alternative replacement refrigerant eg R413a or R437a
Air Conditioning Condenser
Mobile plant air conditioning system condensers are often located in front of the radiator and become vulnerable to blockage from site dust and dirt debris causing reduced heat exchange.
The air conditioning condenser can be susceptible to impact damage, corrosion, and deterioration causing potential refrigerant leaks.
The working environment of construction plant leads to particular problems with cab air conditioning systems. The Condenser heat exchanger fitted to an excavator is usually located in front of the radiator and prone to becoming blocked with dust and dirt reducing efficiency of the aircon system
Air Conditioning Compressor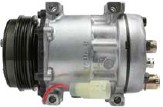 The air conditioning compressor works to pump refrigerant around the aircon system.
Air con compressor units on mobile construction plant are mostly belt driven from engine auxilliary pulleys.
Check drive belt condition and tension.
The air conditioning compressor clutch is often electrically operated causing the aircon compressor to engage
when ac cab controls are set to cooling mode.
Electrical wiring faults and faults with switches / relays may cause loss of ac compressor operation.
Supply of Compressors replacing
Denso - Sanden SD5H14 - Seltec -
Air conditioning pipework
Aircon pipework may be either metal eg Aluminium tube, or flexible rubber refrigerant specification hose.
Pipework should be inspected periodically as it may be subject to vibration and chaffing against over components during machine operation.
Air Conditioning Receiver Dryer
Periodical replacement of receiver dryer is recommended.
Receiver dryers can contain a dessicant pack which deteriorates with age and can disintegrate and lodge beads in unwanted locations causing system blockage.
TXV
The TXV is located just before the evaporator.
The TXV meters refrigerant in to the evaporator.
Air conditioning evaporator
The evaporator is a heat exhanger functioning to cool cab air by removal of heat.
Manufacturers tend to fit cab evaporators in inaccessible locations.
Air conditionig evaporators may collect moisture which can allow bacteria to breed causing musty smells in the cab.
Cab Pollen Filters
Filter air in to the cab
Air Conditioning Blower Fans
Move air across the evaporator and out through cab ducting to vents
Vent temperature
Temperature of air blown out of cab vents should feel cool chilled and fresh if the air conditioner is working correctly.
Air conditioning systems which blow out warm air may require service.
Telephone 07703 558610 www.autoelectrics.net
Supply of air conditioning
Pressure switches
Components
Condenser
Heaters
Heater blower fan motors
Air Conditioning repairs to : * Excavators * Construction equipment * Quarry plant * Agricultural machinery
Benefits of Cab Air Conditioning:
Machine Operator and Site safety is enhanced by cab air conditioning to help the operator stay alert.
Comfortable cabin temperature in hot working conditions reduce operator fatigue and risk of heat exhaustion
Heat is transferred from the cab interior to produce a cooler climate and fresh comfortable environment
Vision is aided by keeping cab glass demisted
Dust and pollution entering the cab is reduced
Dehumidifying - Drying of the air circulating in the passenger compartment
Cab windows can remain closed in hot weather reducing noise level for machine operator
Cab air conditioning systems reduce high cabin temperature best if heater blower fan vent system is set to recirculation mode.
If the evaporator fan (blower fan for cabin) is producing warm air from vents then the air conditioning system is likely to need service maintenance.
Fgas Refrigerant Handler Certification
Persons handling refrigerant for example charging or recovering refrigerant from construction plant air conditioning systems must be FGAS refrigerant handler certified.
We welcome enquiries.
Useful links :