If the passenger compartment inside your car is too hot because warm air is coming out of the vents then the car air conditioning is not working properly.
Without air conditioning on a hot summertime day ambient temperatures inside the car or van can be above 50 degrees Centigrade due to the radiation effects of sunlight on cab glass combined with passenger heat and engine heat.
Correctly operating air conditioning transfers heat from air inside the car to the outside of the vehicle providing a cool cabin. The coolest vent temperatures can only be achieved if the aircon is working without fault. The heater vent controls should be set to recirculation mode to make most refreshing effective use of the cabin air conditioner.
We supply a range of cab air conditioning maintenance services for Car Van Motorhome Truck and Tractor in the Shrewsbury Shropshire area (SY1,SY2,SY3,SY4,SY areas) including:
Air Conditioning Refrigerant R134a Refrigerant Recovery
Most vehicles use R134a refrigerant for cooling in the air conditioner system however some newer vehicles use HFO-1234YF (R1234) refrigerant. Air conditioners containing R134a refrigerant can only legally be filled or recovered by a qualified refrigerant handler holding Fgas certification. Refrigerant should be recovered before a vehicle air conditioning system is dismantled
Nitrogen pressure testing
A Nitrogen pressure test may be used to check the air conditioning system will hold pressure before refrigerant gas is added. Nitrogen pressure testing can also be used to locate air conditioning leaks.
Evacuation of system and Vacuum hold test
Moisture causes problems in air conditioning and refrigeration systems. Moisture can freeze causing blockage by ice leading to air conditioning system failure. Evacuation is placing the system under vacuum by using a vacuum pump. Once the air conditioning system is held in vacuum then moisture is boiled off and sucked out by the vacuum pump. The vacuum hold test involves locking off the ac system whilst under vacuum for a time period, a loss of vacuum indicates that air is entering the air conditioning system and that a leak exists. Most automatic air conditioning machines used by the motor trade leak test using the vacuum hold test method.
R134a Refrigerant Regas
The presence of refrigerant gas in the vehicle aircon system can be checked using pressure guages and sight glass. Refrigerant can be identified to a degree by system operational temperature or using an electronic refrigerant identifier such as the Neutronics machine which analyses refrigerant type.
The air conditioning system is recharged with refrigerant to a specific quantity. Special refrigerant oil is also added to provide lubrication for the vehice air conditioning compressor.
Refrigerant suction and discharge pressures are checked as the vehicle air conditioner is operated. Refrigerant pressure and temperature checks can determine correct system operation.
Vent temperature test
Vent temperature checks with blower fans operating can help determine that the aircon system is working properly. Air vent temperatures can be checked using a thermometer. Better cooling is achieved when vent controls are set to recirculation mode. Blown air is conditioned by passing over the evaporator heat exchanger to remove heat and dehumidify to provide an icy cool refreshing breeze.
Ultraviolet dye addition
UV dye may be added to the vehicle air conditioning system to aid leak detection. Should a future leak occur the UV dye will glow when illuminated by UV light.
Electrical and electronic testing of Vehicle Aircon system
Computer control of vehicle climate systems is now common. Sensors can monitor refrigerant pressures and flow, compressor rpm speed, outside ambient and vent temperatures. Faults with sensors actuators or wiring may cause a fault code to be logged in the air conditioning climate system control unit and prevent or limit operation until fixed.
Antibacterial treatment of air conditioning
A variety of aftermarket products are available for optional extra anti bacterial treatment of the vehicle air conditioning system to remove odours and musty smells which can occur due to build up of moisture on the evaporator during cooling.
Air Conditioning Parts Supply
A wide range of air conditioning system parts can be supplied including Compressors, Temperature Switches, Receiver Dryers, Condensers, and electrical components.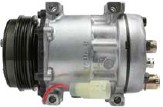 Mobile Air Conditioning and Autoelectrical Service covering Shrewsbury and Shropshire areas.
Telephone 01743 884888 or mobile 07703 558610 www.autoelectrics.net
Local Shropshire Vehicle Air Conditioning Mobile Service Areas : Shrewsbury tel 01743 884888
Abbey foregate | Alberbury | Attingham | Astley | Baschurch | Battlefield | Bayston Hill | Berrington | Betton Abbots | Betton Strange | Bicton | Broad Oak | Cantlop |Cardeston | Castlefields | Castle Gates |Cherry Orchard | Clive | Coleham | Condover | Copthorne | Cound | Cressage | Crew Green | Cross Hill | Crosshouses | Ditherington | Dorrington | Edge |EdgeBold | Emstrey | Fitz | Ford | Forton | Frodesley | Gains Park | Grinshill |Hadnall | Halfway House | Hanwood | Harley | Harlescott | Haughmond |Heathgates | Hookagate | Hope | Kenley | Kingsland | Lea Cross | Leaton | Leebotwood | Longden | Long Mynd | Lythwood | Meole Brace | Minsterley | Monkmoor | Montford Bridge | Myddle | Mytton Oak | Nesscliff | Nobold | Onslow | Old Heath | Pecknall | Plealey | Pontesbury | Pontesford | Poynton | Preston Brockhurst | Preston Gubbals |Poynton Pulverbatch | Pulley | Radbrook Green | Rodington | Rowley | Ruckley | Shawbury | Shrewsbury | Springfield | Snailbeach | Stanton | Stapleton | Stoney Stretton | Stretton Heath | Stiperstones | Sutton Farm | Sweetlake | Telford Way | Underdale | Uffington | Upton Magna | Walford | Wattlesborough | Wem | Westbury | Withington | Wroxeter | Yockleton | Yorton
We welcome air conditioning enquiries.