Vehicle Air Conditioning Condensers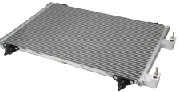 Air Conditioning Condensor Supply & Mobile Air conditioning Service for Car, Van, Motorhome, Truck & Plant Air Conditioning at competitive labour rates
covering
Shrewsbury and Shropshire local areas and Welshpool Mid Wales areas.
Telephone 01743 884888
email: sales(at)autoelectrics.net
Vehicle Air Conditioning Condenser Location & function
Car Van Truck and Tractor Air Conditioning Condensers are usually located near to the front of the vehicle just in front of the coolant radiator.
The air conditioning compressor produces high temperature, high pressure (super heated) refrigerant gas which is piped to the aircon condenser through which refrigerant state changes from a high pressure compressed gas to a liquid refrigerant.
This superheat is removed by a heat exchange process (the condenser gets warm during air conditioning operation).
Direction of refrigerant flow through the air conditioning condenser is from top inlet entering as superheated compressed vapour to bottom outlet leaving as a high temperature subcooled liquid refrigerant.
Heat exchange takes place as Cooling air is blown across the condenser heat exchanger (radiator) fins by vehicle radiator fans or condenser fan.
Condenser fan electrical operation may be controlled by a relay wired to temperature controller thermostats, switches, or climate control module.
Keep the Aircon Condenser Clean !
Build up of dust and debris upon condenser fins cause air flow restrictions and will reduce the efficiency of the air conditioning system.
Vehicle Air Conditioning Condenser Leaks
On many vehicles the air conditioning condenser is located near to the front of the vehicle just in front of the coolant radiator.
The air conditioning condenser is often prone to stonechip impact chaffing and accident crash damage which may cause refrigerant leaks.
Both refrigerant and refrigerant lubricant may be lost if a vehicle air conditioning condenser leaks leading to eventual failure of the air conditioning system.
Vehicle Air Conditioning Condenser Leak Detection
Physical damage to the aircon condenser may indicate areas where a leak is suspect also any presence of damp oily residue from where refrigerant oil has escaped.
OFN Pressure testing
Air conditioning condenser leak detection may require use of a pressure test method using Oxygen Free Nitrogen.
UV Dye
Leak areas may sometimes be detected using ultraviolet light if Ultraviolet dye has been introduced into the air conditioning refrigerant circuit.
Refrigerant electronic leak detection
A refrigerant electronic leak detector may aid finding refrigerant leaks from aircon condensers.
Air Conditioner Low Pressure Fault Codes
Vehicles which have suffered refrigerant loss due to condenser failure may log fault codes
in climate control electronic modules relating to refrigerant loss or low refrigerant pressure detected from pressure switch signals.
P0530 Air conditioner refrigerant circuit pressure malfunction
P0531 Air conditioner refrigerant circuit pressure range or performance
P0532 Air conditioner refrigerant pressure sensor input low
P0534 Low refrigerant circuit pressure
Air Conditioning Condenser Replacement
Replacement of a failed vehicle air conditioning condenser can be an involved job depending on vehicle specification.
Firstly, any remaining air conditioning refrigerant will require safe recovery.
Component disassembly may require removal of trim components to gain access.
Replacement of the aircon condenser on certain vehicles may require bumper and front panel removal and refitment.
We recommend renewal of the air conditioning receiver dryer (if applicable) when a new condenser is fitted.
After fitting a new aircon condenser the air conditioning system will require pressure test to ascertain no leaks are present.
The air conditioning system must be 'evacuated' using a vacuum pump, this also helps boil off any moisture in the system.
A vacuum hold test may be used as a further leak check.
The vehicle air conditioning system can be regassed after leak tests are passed and the system is free of leakage.
Operational checks are completed to check refrigerant pressures, temperatures, and general system operation.
Air conditioning climate control system fault codes may need to be cleared before air conditioner operation is restored.
Supply of vehicle air conditioning condensers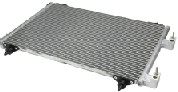 Air conditioning HVAC repairs to : Vans * Trucks * Minibuses * Coaches * Ambulance * Construction equipment * Quarry plant * Agricultural machinery * Marine * Motorhome
Refrigerant recovery by F-Gas certified personnel is a legal obligation prior to removing or fitting air conditioning or refrigeration gas condensers on air conditioning systems utilising R134a refrigerant.
Safety Risk Assessment must be undertaken and followed
Vehicle Air Conditioning Mobile Service in Local Areas:
Shrewsbury - Oswestry - Telford - Wem - Whitchurch - Much Wenlock - Ludlow - Welshpool - Ellesmere - Newtown
Air Conditioning Condenser Supply to
Motor Traders and Garages
Private Customers
Commercial Vehicle Air Conditioning
Road Haulage Fleets
Passenger Transport Taxi Bus Aircon
Agricultural Machine Air Coditioning
Construction Plant Aircon
Forestry Machinery AirCon