Diesel engine basic operating principle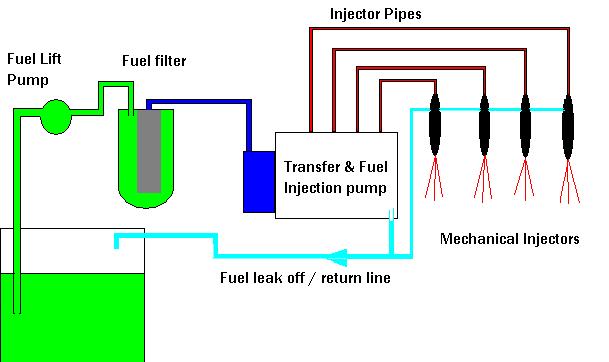 The diesel engine is a compression - ignition engine operating on the principle of air inducted through the intake valve sucked in by downward movement of the piston then being compressed on the upward stroke of the piston. The air temperature increases to around 800 degrees centigrade as it is compressed. Diesel fuel is injected into the cylinder in precisely measured quantities as the piston reaches the end of the compression stroke BTDC . The pressurised injected fuel atomises as it mixes with the air and ignites ,causing an energy explosion which forces the piston downwards during the power stroke as the air fuel mixture combusts. Exhaust gas produced from combustion process is expelled through the exhaust valve as the piston rises on its exhaust stroke.
For the diesel engine to operate efficiently it is essential that the fuel injection equipment is maintained in good order. All pipes and connections should be leak free.
We supply a range of diesel fuel line equipment including filtration, hose, sealing washers, delivery equipment, fuel injectors, fuel pumps and test equipment etc.
Diesel fuel injector pumps
Diesel fuel injection pumps operate at very fine tolerances and require accurate calibration with highly specialised equipment. Diesel injection systems are particularly susceptible to damage caused by use of incorrect or contaminated fuel .
Diesel Injectors
The diesel fuel injectors are a key component in delivering fuel into the combustion chambers of the engine and require periodic servicing / calibration to prevent problems with misfire, excessive smoke, uneven running, etc. There is a variety of types of diesel injector depending on system type, for example , mechanical injector, common rail, high pressure unit injectors.
Diesel Injector Coding in Shropshire
We have computerised equipment enabling recoding of the engine control module when fitting replacement coded fuel injectors to common rail diesel engines
Service Parts Fitting
We can supply & fit:
Fuel filters, Filter heads, Lift pumps, Diesel fuel injection pumps, Fuel Injectors, Stop Solenoids (ESOS), Glow plugs, Heater plug relays, Cam belts, Diesel Diagnostics.
Automobile diesel engine technology has progressed away from the association with sluggish performance, noise , and fume pollution, towards quiet running , fuel efficient ,low emission , high torque performance engines with sophisticated electronic control.
Reduced Diesel Exhaust Soot Emissions
Low exhaust emissions and maximised performance requires diesel engine designs to include higher fuel injection pressures and precise control of the timing of fuel injection in the engine operating cycle.
DPF,Adblue,SCR
Modern vehicles include systems offering purification of exhaust gases by special filtration and chemical treatment in the exhaust system (eg diesel particulate filters) to allow vehicles to meet strict european emission legislation. These systems can become problematic due to the corrosive nature of adblue, and carbon build up caused by exhaust gas recirculation.
Lucas Laser 2000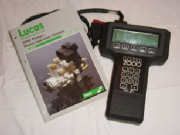 We have Lucas test equipment with specialist diesel software to fault find on older vehicles fitted with the Lucas Electronically Programmed Injection Control ( EPIC ) Diesel fuel injection system as fitted to many turbo diesel vehicles including Ford Transit turbodiesel and Leyland Daf Convoy , Mercedes, Fiat , Peugeot, Citroen applications .
Lucas Laser 2000 is used for diesel pump diagnostics & fuel injection system fitted to pre year 2000 Ford Transit turbodiesel & LDV Convoy 400 series turbodiesel van, and some Mercedes , Metrocab ,Fiat , Peugeot Citroen,Renault applications.
We also have test equipment capable of fault diagnostic applications with modern vehicle common rail diesel fuel systems.
Diesel Engine Fault Diagnosis
Our mobile service has facilities to remove and refit diesel fuel injection equipment ,and also diagnostic equipment which can be used to diagnose and interrogate electronically controlled diesel engines, including systems from Bosch, Denso, Lucas, CAV, Rotodiesel, Stanadyne, as fitted to many makes of vehicle including cars , vans, minibuses, taxis, buses, commercial vehicles, tractors and construction plant.