Dashboard warning lamp
We DO NOT recommend vehicle operation is continued with a warning lamp or warning message active – It is a warning for a reason !
First check your owners manual to find out what the warning light refers to. Operation sequence of most engine system related dashboard warning lamps illuminate when the key is switched to ignition position and should go out when the vehicle engine is running.


Check Engine warning lamp:
Illumination of the check engine or engine management warning ( MIL ) lamp indicates that the vehicle engine management computer (ECU , ECM ,PCM) control module has identified a fault related to the efficient running of the engine and probably affecting exhaust gas emissions.
Vehicles with diesel engines may also use the glow plug pre heat warning lamp to indicate engine management information.

Fault Codes
If the check engine warning light comes on during engine operation a fault code has almost certainly been logged by the engine control system, and consequently the engine control strategy may revert to limp home or restricted power mode.
Safety Features
Logged engine management faults in some cases may prevent the engine from running by software function..
Limp home mode will usually be noticed by the driver because of poor acceleration, shuddering, restricted performance, or the engine will not rev above a certain rpm.
What causes the engine management lamp to light up ?
Sensor Inputs : The value expected from each engine sensor is programmed into the software of the engine control module and represented as a map or lookup table. (Fuel map, Ignition map, etc)
An out of range value may represent a faulty component , wiring circuit or mechanical condition.
The check engine lamp may illuminate to notify the driver that a fault has been detected for example when a value exceeds parameters programmed in to engine controller memory map.

Retrieval of fault codes
Most modern vehicles require diagnostic equipment with dedicated software to interrogate the ecm for stored fault codes.
Automotive system electrical diagnostics involves an interrogation scan of the vehicle computer for stored fault codes using suitable diagnostic equipment such as a scan tool fault code reader.
Some older vehicles (usually Japanese) have a self diagnosis function allowing the the fault code to be read by counting the flashes of the check engine light and looking up the value in a reference table.

Historical fault codes
Intermittent faults which occur during driving may be logged as an error fault code which causes the dashboard warning light to illuminate..

Random disconnecting of electrical connectors in the engine bay may also cause fault codes to be logged.

Fault Code Categories

EOBD fault codes
The term EOBD refers to European On Board Diagnostics. EOBD standards apply to Petrol vehicles from May 2001 on , and Diesel vehicles from 2003 on.
EOBD Fault codes , sometimes referred to as P.... codes are generally logged for factors which affect vehicle exhaust emissions.
EOBD monitoring has various modes including Freeze frame Data, which can be useful to help diagnostics.
Vehicle Manufacturer specific fault codes Vehicle manufacturers use their own specific fault codes relating to in depth component functions not covered by EOBD

Engine Management Memory Reset
Diagnostic equipment will reset the control system computer software and turn the warning light off , however if a fault is still present the check light will often illuminate again once a driving cycle has been completed until the fault has been rectified. In some cases several error codes may be present.

Electronic engine Management
Engine control computer module compares values from various sensors to calculate;


Driver demand

Throttle position sensor, brake pedal switch,clutch switch,etc

Position of mechanical components

Using Crankshaft position sensor , Cam position sensor
Temperature :

How hot or cold the engine is (intake air temperature,coolant temperaure)

Engine speed and load

airflow sensor, manifold absolute pressure (vacuum) , turbocharger boost pressure

Exhaust emissions

Lambda or Oxygen sensor operation
Exhaust Gas Recirculation (EGR)


Test and Repair
Following testing, a faulty wiring circuit may be repaired or component adjusted , cleaned or replaced.
Diagnostic Equipment Functions
Our diagnostic equipment is capable of
Fault code reading
Actuator testing

to verify wiring circuits by operating the suspect component on a wide range of vehicle systems. The actuator test function can allow some components to be thoroughly cleaned which may save replacement cost.
Programming and Coding

Some components such as electronic fuel injectors , throttle bodies etc may need coding to the vehicle ecu
Advanced system testing can be carried out using oscilloscope signal test methods
Reset Procedures

Following repair work the fault code memory of the vehicle computer will need to be reset to clear stored fault codes.

Engine Sensors, Actuators , and Common Faults



Exhaust gas recirculation ( EGR ) system functions to reduce combustion temperature and oxides of Nitrogen ( Note : not Nitrous oxide !) EGR and Idle speed control ( ISC ) devices are particularly prone to failure due to build up of carbon and soot deposits which can restrict the air inlet system of the engine.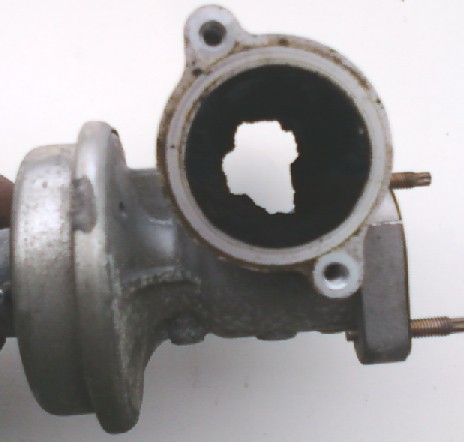 EGR systems may cause the MIL warning lamp to illuminate intermittently and flag a P0400 EOBD fault code due to "critical system malfunction" as described on certain diagnostic equipment !
Mechanical position sensors :
Cam position sensor : used to identify cylinder phasing
Crankshaft (CKP)position sensor : Identification of engine crankshaft position and calculation of engine speed and combustion forces. Frequency and amplitude signal is proportional to engine rotational speed.
Symptoms: Non Start, Misfire
Typical failure : Signal errors can occur due to sensor failure , phonic wheel damage, wiring connection failure, loss of synchronisation between crankshaft and camshaft(s).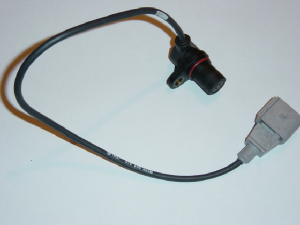 Throttle position sensor (TPS) / Accelerator Position sensor (APP)
function:Driver demand signal. TPS failure may occur due to wear of potentiometer track causing flat spots and hesitation when accelerating.
Brake Pedal Position & Clutch Pedal Position sensors used to reduce to stabilise idle speed and fuel delivery quantity when engine is off load . Faults may occur due to worn out switches resulting in false (implausible) signals.
Mass Air Flow (MAF) sensor measures volume of air entering air intake , Air Mass Meter measures weight of air entering intake tract. Engine load sensor which can effect fuel metering (petrol engine) or EGR position (diesel engines) .
Intake Air Temperature Sensor may be incorporated with air mass meter , with MAP sensor (T-MAP) or seperate.
Manifold Absolute Pressure (MAP) sensor measures engine load by vacuum (petrol engines) or boost pressure (turbocharged engines) at intake manifold. Split or blocked pipes can effect operation. MAP signal can influence fuel control, EGR, and turbo boost.
Temperature measurements may be signalled by either coolant temperature sensor or cylinder head temperature sensor. Temperature signal is processed to compensate engine smooth running by control of fuel delivery egr position, & diesel pre heat function.
Fuel Delivery System : Low and high pressure fuel injection pumps, pressure regulator, fuel injectors. Prone to faults caused by fuel contamination , and general wear.
Boost pressure control : turbocharger waste gate position and hence boost pressure control is often actuated by solenoids controlling vacuum circuits. Common faults can include loss of vacuum due to vacuum pump wear, split or blocked vacuum pipes, electrical circuit faults with control, solenoid or wiring.
Lambda Sensor (as fitted to Petrol & Gas fuel systems)
Measures oxygen content of exhaust gas and is used as a feedback signal to control fuel quantity delivery. Can deteriorate due to age and contamination. Lambda sensor fault codes may also relate to problems other than the sensor itself. Lambda sensor operation can is affected by sensor temperature .Lambda sensor feedback signal is only used when engine operating temperature is sufficient to enable closed loop control status.
A second lambda sensor may be fitted in the exhaust system after the catalytic convertor to monitor condition of the catalyst.
We can supply a range of replacement sensors and actuators at competitive prices
Anti-theft Immobiliser warning lamp
This may flash as the engine is cranked whilst the immobiliser is active.
Manufacturer or OEM immobiliser systems are often integrated into a vehicle on board computer system and may prevent starting, ignition, or fuelling circuits from operating.
Faults can sometimes occur if a receiver does not recognise the signal transmitted by a coded key or remote, or no transmission due to defective remote/discharged battery, or broken wiring causing CAN signal faults.
This type of system can rarely be bypassed other than by reprogramming.
Aftermarket alarm and immobiliser systems are installed as an added security measure by some owners. If these systems fail they can normally be removed or bypassed by an autoelectrician to enable vehicle operation.
You should check with your insurance company if an aftermarket alarm is to be removed as this may affect insurance policy validation.
There is more information about alarms & immobilisers on our vehicle security page.