Motorhome Campervan & Leisure Vehicle Autoelectrical in Shropshire & Mid Wales
We provide a full range of services and parts for Motorhome and Camper van users including :
Autoelectrical fault tracing
Wiring of additional lights
Split Charge Auxilliary Battery for onboard power
Assistance with vehicle conversions
Electrical power generation equipment for motorhomes and camper vans
Alternators

The Alternator functions as a generator to charge vehicle batteries.
Supply of a wide range of motorhome alternators and repair parts to suit your requirement.
On holiday and broken down ? Callout service available for motorhome alternator fitting in Shrewsbury Shropshire and local.
Inverters
We have a range of power inverters to convert 12 volt battery power to 240v mains type output to supply accessory equipment which normally operates at domestic mains voltage.
Leisure Battery Charging
Split Charge Auxilliary Battery Systems
Additional auxilliary leisure batteries may be used to power an inverter and auxilliary interior lighting when the motorhome or camper van is parked off site.
A basic split charge system operates by switchgear linking an auxiliary battery bank to the existing vehicle starter battery charging system provided from the alternator.
Voltage Sensitive Relay VSR Split Charging System
The vehicle starter battery is linked to the auxilliary battery bank via an automatic solenoid switch or voltage sensitive relay (VSR).
When the engine is not running, the VSR disconnects the second battery to prevent current draw from the auxilliary battery during cranking as the starter motor operates.
After the engine starts and a rise in starter battery voltage is detected indicating that the alternator is charging, the VSR switch contacts close allowing electrical charging current to flow from the vehicle alternator to the auxilliary battery.
DC battery to battery charger
A more advanced method of creating a split charge system involves use of a DC battery to DC battery charger which can regulate charging current to the auxilliary battery bank.
Auxilliary battery charging system using blocking diode
A diode acts like an electrical non return valve. Battery charging current is allowed to passenger from the vehicle alternator to the auxilliary leisure battery only.
The blocking diode prevents current flow back from the auxilliary battery during engine start.
Solar Panel Leisure Battery Charging System
Additional battery charging can be provided by fitting a solar panel battery charge system.
Solar panel battery chargers may require an additional voltage regulator.
More information can be found on our solar panel web page
Parallel Battery Operation
Starter battery and auxilliary battery are connected with heavy duty cabling via a battery isolator switch, which when turned on allows the auxilliary battery to link to the starter battery to provide extra power to the starter motor allowing cold starting assistance.
Modular System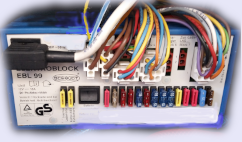 Modular electrical systems such as those by Electroblock and Sargent are fitted to many motorhomes incorporating several circuit functions in to one electronic unit.
Starter Motors for Motorhome engines
Supply of a range of starter motors to fit Diesel and Petrol engines in motorhomes and campervans based on
Ford Transit
Fiat Ducato
Mercedes Sprinter & Vito
Renault Master
Vauxhall Vivaro
Volkswagen Transporter, T2, T4, T5, T6, Crafter
Motorhome and Camper Van Climate Control
Night heaters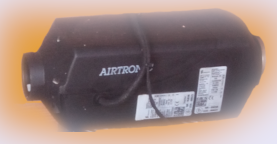 We have night heater diagnostic equipment for various makes of motorhome and campervan (nightheater) blown air heating systems including Eberspacher Airtronic and Webasto Airtop 2000 and may also be able to assist we sourcing components. We do not repair the cheap chinese diesel heaters.
Motorhome Air Conditioning and Cooling
As an FGAS qualified engineer we do offer a range of motorhome air conditioning services including air conditioning test, repairs and regas.
Computerised diagnostics
Most motorhomes are built on a converted van chassis. Our Specialist computerised diagnostic equipment is capable of vehicle computer modules on many motorhome and camper van electronic systems including engine management, airbag, and antilock braking systems *subject to specific software compatability.
More information can be found on our vehicle diagnostics web page
Audible Reverse Warning Systems
Reversing warning bleeper Installation
Motorhome MOT preparation
Despite vehicle size, many motorhomes and motor caravans fall under the class 4 MoT test group which is the same category as for passenger cars.
The MoT test centre must be able to accommodate the size and type of vehicle with regard to workshop space, equipment and qualification.
A full list of items to be checked can be found in the relevant DVSA MoT testers manual downloadable from the .Gov website.
Key points are condition and security of components affecting vehicle safety including
Drivers controls and vision
Lights
Brakes
Steering
Body and chassis components
Wheels and tyres
Motorhome Habitation Inspection
A habitation check is a seperate inspection which is not currently part of the MoT test.
Habitation inspection checks include observation of condition of equipment linked to the living quarters of the vehicle.
Our engineers do not currently carry out motorhome habitation checks however may look in to this facility in the future if enough demand arises.
We do get involved with fault tracing and repairs of certain equipment.
Van Conversions - a few notes
Some people self-convert a standard panel van in to a camper van by adding features such as
Insulation materials - possibly earthwool fitted between interior and exterior body panels.
LED interior lighting with low power consumption
Bed
240v mains hook up point via 16 Amp supply, with Residual current device (RCD)
240v to 12v battery charger
Auxilliary battery
Split charge system - battery to battery charger , voltage sensitive relay (VSR) , battery isolation switch.
12 volt power distribution board with fuses or circuit breakers.
12v to 240v Inverter
Night heater
Wood burning stove (- one of our plumber customers has fitted a compact wood burning stove in his camper van )
Sink with 12 volt water pump
Gas Cooker
Gas bottle storage compartment
Microwave
Kettle
Cool box
Fridge - 3 way fridge which may be run on gas, 12v electric, or mains. Requires ventilation.
Toilet
Shower
Interior storage cupboards
Reversing camera kit
Seperate roof mount air conditioning unit
Some additional Important Safety Features for camper vans and motorhomes

Battery Isolator Switch
Electrical circuit breakers, fuses, and rcd
Smoke Alarm - we always recommend fitment of smoke and Carbon monoxide detector alarms in camper vans and motorhomes.
Fire extinguisher
First Aid Kit
Check operation of all entrance doors and exits.