Dynamo Generator Charging System Control Box
Various types of voltage and current regulator control box exist to regulate dynamo output which would otherwise increase with engine rpm.
Electromechanical Regulator control boxes were used on many vintage and classic vehicle applications to control dynamo field current, and provide near constant battery voltage (constant voltage control or cvc) with varying current to enable the demands of battery charging.
Voltage Regulation
The dynamo generator field circuit (F) must be energised for the dynamo to produce charging output.
A working dynamo can generate unregulated voltage output which increases with rpm if a link wire is placed between D and F terminals, then voltmeter connected between D-F link and chassis ground.
The voltage regulator assembly (Lucas type ; Left bobbin) controls the field circuit of the dynamo by repetitive rapid opening and closing of switch contacts between D and F at a frequency of 60 to 100 times per second (source: Lucas technical service course section 5 Generator output control) by action of a regulator shunt coil wired between D and Chassis ground (Earth) opposed by spring tension. When voltage regulator switch contacts are closed the field circuit should be energised. Adjustment of voltage regulation is made by turning a screw acting upon spring tension. Temperature compensation is enabled by a bimetal strip fitted behind the spring.
Regulator switch contacts may require cleaning periodically.
Carborundum stone or fine silicon carbide paper is recommended to clean tungsten voltage regulator switch contacts.
Resistor
A resistor is wired in parallel to regulator field circuit switch contacts to limit arcing caused by induced current as switch contacts open and close.
On 12 volt regulators a 60 or 63 ohm resistor is used.
On 6 volt regulators resistor is either 30 or 38 Ohms is used.
Current Cut Out
The cut out is a seperate unit to the voltage regulator.
When the engine is not running, cut out contacts are open to prevent battery discharge via generator windings.
With the engine running, all charging current from terminal D of the dynamo passes through the cut out contacts and windings on the cut out bobbin.
When cut out switch contacts are closed D and A are connected via an ammeter completing the charging circuit between dynamo and battery.
Cut out switch contacts made of silver may be cleaned with fine grade glass paper.
LRT9 voltage regulator
Lucas RF91
Lucas RF95
The RF95 was used on 1950's vehicles such as the Daimler Consort (wiring diagram no. W78361) and features extra auxilliary circuits
The original RF95 casing construction was bakelite with the top cover having a metal rivetted clip to provision storage of extra fuses . An iron frame known as the yoke supports two wound bobbins, one for the voltage regulator, and one for the cut out.
There are 9 terminals (left to right) with grub screws marked A1,A,A2,F,D,A4,A4,E,A3.
Glass cartridge fuses connect between terminals A1 and A2, also A3 and A4.
Terminals:
A1 (from A on control box via winding) for auxilliary loads eg, lights.
A (from battery live via Ammeter)
A2 (from A1 on control box via fuse)
F (connects to Field terminal on dynamo)
D (connects t0 D terminal on dynamo)
A4 (from A3 on control box via fuse)
A4 (from A3 on control box via fuse)
E connected to chassis ground
A3 (ignition switched live)
Lucas RF96
Terminals:
A1
A
F
D
E
Lucas RF97
Features a rivetted metal clad casing and plug in terminals for use in less favourable environments such as marine and agriculture. Produced in 6 volt and 12 volt versions.
12 volt 22 Amp mechanical voltage regulator
Cross reference part numbers
Lucas 37066 , 37132M, 371388, 37139, 37139E, 37182K, 37182L, 37183, 37183M, 37283, 37290, 37290d, 37290e, 37290f, 37294, 37384, NCB101 .
HC130052, VRG352
Classic Car Applications: Austin, Austin Healey, Austin Morris , Ford, Morris, Mini, MG ,Jaguar , Landrover Series 1,
Classic Tractor Applications: Fordson Major, Fordson Power Major, Fordson Diesel Major, Fordson Super Major, Fordson Dexta,
Classic construction plant applications: JCB 3C with Fordson engine.
Terminals: A1 , A, F - Field, D - Dynamo, E - Earth.
Lucas part no. RB107
Lucas part no. RB108
12 volt 11 Amp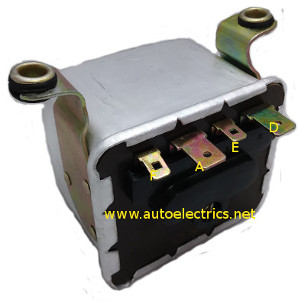 Cross reference part numbers : NCB118 NCB119
Terminals : D - Dynamo Output , E - Earth, A , F - Field. Terminals may be Spade type or Bullet type.
Versions may be 6 volt or 12 volt
Vehicle applications: Landrover,
Agricultural tractor applications: David Brown 880 , David Brown 990, Ferguson 35 Tractor, MF135 tractor,Massey Ferguson 165 tractor, MF168, MF175, MF185 , Nuffield
Lucas RB300
Terminal markings:
B battery
F field
A armature
Lucas part no RB310 Current Voltage Regulator
Cross reference part numbers: Lucas 37303 B, 62938009 ,
Terminals : B F D
Classic Car applications: Bentley, Jaguar, Rolls Royce.
Lucas part no RB340 Current Voltage Model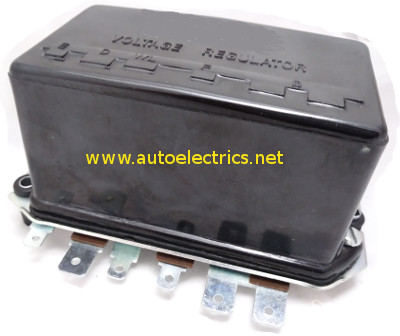 Adjustment by turning cam with special tool.
22A Replacement part nos: NCB 130, Durite 0-833-00 22 Amp
Note : Different specification of RB340 are available in various current rating. Please ensure the correct current spec is used in conjunction with your dynamo.
Terminals : E -Earth , D , WL - Warning Light, F - Field, B - Battery.
Contains Voltage regulator coil, current regulator coil, and cut out.
Car Applications: Austin , Jaguar, MG, Triumph , various models.
Legal disclaimer : Any information on this web page is given in good faith but should not be relied upon as correct. all brands and trade names are respected as property of their legal owner with no association express or implied. By use of this website you accept and understand our terms and conditions which can be read by following the link: Terms