Planned Vehicle Fleet Inspection Maintenance Systems for Safety and Regulatory Compliance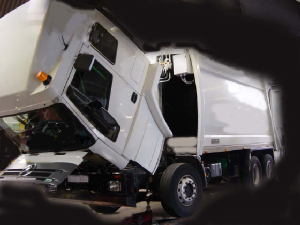 Planned fleet vehicle maintenance systems focus upon safety , service reliability and availability aiming to integrate

Operator Legal Compliance
Safe Daily vehicle Operations
Increased Fleet Reliability with Reduced Vehicle Downtime
Planned Maintenance - Scheduled vehicle safety inspection
Fleet repairs
Scheduled Vehicle servicing
Vehicle asset management and disposal
The DVSA guide to maintaining roadworthiness of Commercial vehicles can be downloaded from the business link website pdf download link
Driver's Daily Walkaround Check and Report System
Vehicle drivers and operators have legal responsibility for safety compliant vehicle operation.
A driver is often the first one to notice vehicle performance faults, damage, and safety defects.
Driver's daily vehicle walkaround checks include basic inspections to check condition of
Driving controls, seating, and vision equipment
Vehicle lights condition and function
Fuel Oil and Coolant levels
Wheels and Tyre Condition
Component Security
Load Security
Completion of a drivers defect report itemising noted faults.
The driver daily defect reporting system may be paper based or utilise technology such as a digital application.
A copy of each driver's defect report should be provided to the transport office so repairs can be organised ,
approved, and documented as part of a fleet safety compliance system.
Driver's own repairs
Many professional drivers are quite competent to carry out basic repairs such as changing a blown bulb providing the correct part is fitted!
On certain occasions we have had to carry out specialist autoelectrical repairs to vehicle equipment following when a driver has fitted an incorrect bulb to a tail light unit for example, single contact bulb where a twin contact bulb should have been fitted, a very easy mistake , which has then resulted in specialist body equipment electrical failure due to a simple short circuit resulting in wiring insulation meltdown and expensive component damage.
Vehicle Planned Maintenance Inspection by a competent person
Vehicle safety inspection frequency is usually defined by the operator licensing authority under contractual conditional terms of the vehicle operators licence.
Commercial vehicle Safety inspection procedures are designed to provide professional condition monitoring of vehicle safety and roadworthiness and produce an auditable trail of vehicle inspection reports itemising faults.
Professional condition monitoring assists reliability of the vehicle fleet by early identification of minor problems before they develop to inevitably cause vehicle breakdown.
Regular condition monitoring may also influence vehicle asset management and fleet disposal policy.
MoT Test classes for Commercial Vehicles
The annual DVSA MoT test is a scheduled safety inspection under defined conditions within approved facilities where a pass means basic roadworthiness criteria has been met.
Class 5 :
Private Passenger Carrying vehicles with more than 13 seats and Ambulances.
Class 7 : Goods vehicles eg Transit Vans over 3000kg up to 3500kg
LGV: Large Goods Vehicles
PCV: Buses and Coaches
Inspection Method : How is a typical commercial vehicle inspection carried out?
Planned vehicle safety inspection follows a pre defined route around the vehicle designed to minimise labour time without compromising the integrity of the inspection.
Vehicle safety inspection should not be confused with vehicle servicing.
A safety inspection provides condition monitoring of vehicle components to decide if a vehicle is roadworthy.
A typical hgv safety inspection commences with visual inspection of manufacturers and DTP vehicle identification plates to confirm vehicle details. Relevant vehicle details may be noted on the vehicle maintenance inspection form together with date of inspection and recorded mileage. Vehicle defects are noted on the inspection form as the examination takes place .
Any defect present affecting vehicle operation may be graded by importance as:
A: requiring immediate attention
B: requiring attention when spare time permits
C: item to be kept under observation.
Vehicle Repairs
Immediate or scheduled repair may be undertaken following the vehicle safety inspection.
Engineers carry out appropriate remedial repair work as necessary following inspection or defect reporting.
Vehicle maintenance sheets are updated following repair to maintain the audit trail of roadworthiness.
Vehicle Servicing
Servicing of a vehicle may follow a service menu which includes changing of service items such as engine oil and filters, fuel filters, air filters, and change or top up of fluids.
OCRS Compliance
To learn more about the Operator Compliance Risk Scoring system Click here
OCRS is a traffic light type of system operated by DVSA to monitor operator safety compliance.
Transport Industry Customers
We have supplied various commercial vehicle fleet operators, vehicle leasing companies, local authority directly or indirectly including
Independent Haulage Contractors
Telford & Wrekin
Shrewsbury & Atcham Borough Council
Shropshire County Council
Highways Agency
Environment Agency
Electricity and Gas Utility Companies
Ambulance & Patient Transport Service
Fire Service
Lucas Services UK
Blue chip vehicle leasing companies
with Preventative Maintenance Inspection checks and repairs to meet DVSA HGV Roadworthiness Inspection requirements. Workshop labour / Auto electrical installation on both an independant and fleet support approved sub contract labour basis.
Fleet Parts - Supply and Service of HGV Commercial Vehicle Components
Rotating Electrics
Lamps & Lighting Equipment
Switches and Relays
Tail lift motors
DC Winch motor
Wiper washer motor
Repair components
Rotating Beacons, Xenon beacons, Lightbars
Front marker lamps, Reflectors, Rear Tail Lamps,
Roof / interior body lights, Side marker lamps, Halogen driving lamps
Number plate lamps, Xenon lamps
Pendant controls for tail lifts
Indicator flasher unit
Switches
Power Supply Equipment Plugs Sockets
Body & Warning Equipment
Workshop tools
Batteries with on site fitting.
Wiring Cable
ABS plugs, Trailer electrical susie Type 24N ISO 1185 wiring plug, EBS plugs, Type 24S ISO 3731 wiring plug
Trailer junction box
Heated mirrors
Worklamps
Windtone horn
Wiring tools Drill bits
Battery Cable Crimpers
Inspection lamps
First aid kits
Protective Clothing disposable gloves
Oil spill control kits
Trained Staff with technical competence
Our business aims for continuing professional development. Staff qualifications include
Degree and BTEC HNC level qualifications
Various Manufacturer Electrical and electronic systems diagnosic training
FGAS Refrigeration C+G 2079 class 1
Fleet Transport Assosciation (FTA) Vehicle Inspection Procedure Training
DVSA MoT tester trained class 4 & 7
Fully licenced HGV class 1 (C+E)driver with Digital tachograph card and current driver certificate of professional competence
On Site Vehicle Servicing
Service requirements will vary with the type of vehicle operation and the operating environment.
Servicing refers to the checking or replacement of lubricants, fluids and filters, and other recommended service components. Basic tests, settings and adjustments may also be carried out. Servicing may be scheduled by time or vehicle mileage / engine hours. Service maintenance such as Oil and filter change, greasing etc may be carried out at similar times to safety inspection but should be viewed as a seperate operation.
Wheel Security
Checking Security of vehicle wheels is an important part of every CV inspection
Wheel loss can be caused by excessive vibrations, worn/ damaged wheel studs, elongation of wheel stud holes, incorrect tightening procedures.
A selection of indicators and retainers can be fitted to aid visual identification of wheel nut position during drivers walk round checks.