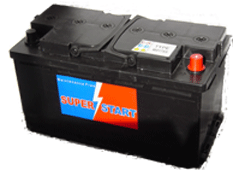 Vehicle Breakdown call out + replacement battery supply & fitting at a competitive price !
A.M.P.S breakdown supply & fit a range of Brand New Premier Quality vehicle batteries with warranty from Budget battery 24 months to Premium Quality 4 years to replace your flat or worn out battery
Car Van HGV Truck Tractor Batteries
Autoelectrics Mobile Product Services has Bosch professional battery diagnostic test equipment to check batteries are not replaced unnecessarily.
Our online product range includes :
Battery Specification
Use the correct specification of battery recommended for your vehicle. The original equipment vehicle battery may often be identified by a product code, typical examples are: 002 , 005 , 015 , 017, 027, 037 , 038, 048 , 049 , 054 , 063 Car battery, 065 Car Battery , 067 , 069 , 072 , 075 , 077 , 085, 088 , 089 ,093 , 096 , 097 , 110 , 154, 334 ,335 , 421 ,622 , 627 Truck Battery , 629 , 643 Truck / Tractor Battery , 644 , 647 , 648 , 655 , 656 , 663 , 664 , 678 , 895, 896
Batteries can be identified by :-
System voltage eg 6 volt, 12v , 24v ,
Battery Capacity in Ampere hours Ah
Cold Cranking current CCA , rating may be specified as SAE, EN, JIC.
Battery Terminal layout position
Battery Size : Physical dimensions
Vehicle Application : The correct battery application for your car, van, truck, or tractor is designed to take account of factors such as :
*Engine capacity and starter current draw (higher cylinder capacity or greater compression ratio requires more effort to rotate it)
*Reserve power requirement (additional systems such as lights, air conditioning, (which can use up reserve power) .
*Location ( special batteries for specific mounting position)
*Climate (Cold temperatures can naturally discharge the battery and also increase loads encountered during starting) A battery with a higher CCA rating (Cold Cranking Amps) will make cold starting easier. CCA is the number of Amps a battery can deliver, over a specified period of time, to a specified voltage.
*Vibration & chemical attack (eg: encountered on industrial machines )
*Charge-Discharge cycle.
Batteries with various cycle times are avaliable
Energy Storage
Vehicle batteries come in many types and sizes. Batteries are the chemical energy store at the heart of the vehicle electrical system and often the energy source for starting the vehicle. A discharged car battery is one of the most common causes of vehicle breakdown.
Batteries fitted to electric vehicles provide the potential energy storage to be converted to kinetic energy by electric motors and driveline at vehicle motion.
Future systems may use energy stored in vehicle batteries as an off grid solution to powering other industrial and domestic consumers. Imagine the potential for highways containing photovoltaic cells to collect solar power (see www.solarroadways.com ) which could be stored off grid in vehicle batteries and then connected to the national grid. This would obviously raise legal questions of who owns the power ? Benefits would include efficient use of land that would normally not be used for agricultural production.
Vehicle Battery Types
Many types and varieties of vehicle battery exist but can be generally catagorised in to Engine Starter batteries, Auxilliary batteries, and Traction batteries
Starter batteries
Vehicle Starter batteries are designed to produce high output current over short duration cycles to power the starter motor during engine cranking with sufficient capacity to power auxilliary equipment.
Auxilliary Deep cycle (leisure) batteries
Leisure batteries are designed for lower output longer operation and are usually used on caravans or motor homes for auxilliary electrics.
Traction Batteries
Traction batteries provide the power reservoir for running motors on electric vehicles. Typical examples of traction batteries are fitted to electric forklifts, milk floats etc.
Electric Vehicle Batteries
Electric vehicles can incorporate more than one battery pack. A 12 volt battery may be used to power control modules operating at low voltages, and secondly, a high voltage (HV) battery
Amp Hour Rating
The Amp hour (Ah) rating of a battery defines for how long it will deliver current (eg 240 Ah will deliver 10amps for 24 hours, or 24 amps for 10 hours etc...)
Safety procedures
Safety procedures should be undertaken when storing , charging, fitting and removing vehicle batteries
Dangers associated with vehicle batteries include Sulphuric Acid and Explosive gases. Eye protection and gloves should be worn during battery handling and fitting. Arcing may occur if terminals are shorted with metallic objects.
Always remove the chassis ground terminal first when disconnecting a vehicle battery.
Batteries should only be charged in a well ventilated area. Refer to http://www.hse.gov.uk/pubns/indg139.htm for further guidance.
Vehicle Battery charging during vehicle operation
Batteries require a direct current (dc) power supply to allow recharge.
In use, the vehicle battery is recharged by generator either engine driven alternator or dynamo whilst the engine is running.
The battery charging voltage must be controlled by a voltage regulator at slightly above the battery system voltage, for example a 12 volt car battery would be recharged at around 13.5 volts.
Alternative additional methods exist of recharging vehicle batteries whilst a vehicle is moving including regenerative braking as used in modern hybrid vehicles.
Any method of generating electricity and rectification to direct current (dc) could be used to recharge a car battery providing the voltage is regulated and sufficient current provided.
Possible battery charging sources are solar panel ( Photovoltaic ) battery chargers, wind generators, mains powered battery chargers, dynamo, alternator.
Battery leads with poor connections causing high resistance to current flow result in battery charging problems and a flat battery causing vehicle breakdown.
Vehicle Battery Construction
The basic chemistry of a battery cell consists of two electrodes, respectively an Anode (+ve) and a Cathode (-ve), and Electrolyte.
Battery cells may be of individual construction or contain several battery cells
Lead Acid Batteries
A conventional Lead-Acid car battery consists of a container holding terminals connected to a series of lead plates immersed in a sulphuric acid electrolyte. Other types include Dry cell , Gel filled cell, AGM (advanced glass mat)
Potassium Hydroxide Batteries
Nickel Cadmium (Ni-Cd) Dry Cell
Cadmium Anode, Nickel Oxy-Hydroxide Cathode, Aqueous Elecrtolyte of Potassium Hydroxide and Water
Nickel Metal Hydride (Ni-MH) Dry Cell
Alloy Anode capable of absorbing Hydrogen, Metal Oxide Cathode, Aqueous Electrtolyte of Potassium Hydroxide and Water
Lithium Batteries
Lithium ion (Li-ion) Dry Cell
Carbon Anode, Metal oxide Cathode, Lithium salt electrolyte c
Battery Reserve Capacity
Starter Battery reserve capacity (capacitance) must be sufficient to allow a high flow of current to the engine starter motor of the vehicle when cranked and also supply some of the current for other major components such as heater fans, lights, fuel injection, etc.
Reserve capacity (RC) is the amount of time a vehicle can run on battery power only without charging system operating. Reserve capacity specification assumes the vehicle requires 25 amps to support basic electrical function at operating temperature of 25 degrees centigrade and is the time in minutes taken for the battery to reach a final voltage of 10.5v whilst disharging without generator operation
Lead Acid Battery Maintenance
Lead-Acid battery maintenance involves:
Visual check
Condition of the battery casing for cracks, and security of the battery hold down device.
Electrolyte level check involves identifying amount of electrolyte fluid in the cells, this should just cover the plates, top up with distilled water as necessary, taking account of safety precautions.
Lead Acid Battery Electrolyte Specific Gravity (S.G.)
Specific gravity of battery electrolyte in each cell can be tested using a hydrometer :
Fully Charged battery 1.270 - 1.290 (12.7 volts)
Half charged battery 1.190 - 1.210
Discharged battery 1.12 SG (10.8 volts)
(* source : Joseph Lucas Ltd publication TPC.1 October, 1967)
Lead Acid Battery and charging system performance tests
A range of battery test equipment can be used to test battery and charging system circuits either off or under load. Multimeter, Midtronics or Bosch BAT121 battery tester , Carbon Pile , heavy discharge tester , Test light, Hydrometer.
Battery Cable and Connections
*Check battery terminals are clean , secure and in good order .
*check the cables for condition.
Combustion Engine Won't Start?
Battery failure is the most common cause of vehicle breakdown.
Vehicle Battery Failure Symptoms :
Ignition key turned to the "IGN" position : No ignition lights on the dash panel when the key is turned to the "IGN" position may indicate battery failure.Try switching the headlights on ,if they operate brightly, this could be an electrical fault requiring further investigation and repair.
Ignition switch on, dash warning lights come on, when you turn the key to the crank position the warning lights go dim and nothing happens. This could also be a starter motor or wiring fault. Ignition switched on, dash warning lights come on , turn the key to the crank position, nothing happens, but lights do not dim: Could be an electrical fault with switch, relay, wiring, or starter motor . Ignition switched on, dash warning lights come on, turn to crank position and you just hear a click from the starter motor ; Possible low battery volts, starter solenoid fault, or wiring etc. Ignition on , turn to start position and starter motor cranks engine over slower than normal; Could be a starter motor or wiring fault, but if this happens on a cold winter morning its a fair bet the battery is failing.
Vehicle Electronics : Computer fault codes particularly present in airbag module for low battery volts can be a sign of a failing starter battery For more information on vehicle starter faults see the table on our starter motor page Causes of Vehicle Battery failure Battery at end of service life : During its natural cycle material is transferred through electrolyte from one plate to another in each cell of the battery, this causes degradation until the cell fails. The battery can also fail due to internal short circuit. Most batteries are stamped with a date code and have an expected lifespan.
Self discharge:
Car Battery draining or not holding charge ?
A battery loses a percentage of surface charge even when disconnected .A Lead Acid battery will generally become weaker as it ages. 12v vehicle batteries with a voltage of 12.4v or below should be recharged Low electrolyte level : The electrolyte is the medium through which the electrons pass during the battery cycle. Low electrolyte can cause premature failure. A cracked battery casing can allow electrolyte to leak causing advanced corrosion to surrounding structures. Severe cold temperature can freeze battery electrolyte.
Poor connections: Loose or corroded battery terminals or defective wiring cause high resistance resulting in either the battery not being charged properly or not being able to deliver its current when required. Sulphate around battery terminals leads to poor connection. Severely corroded battery clamps should be renewed. Battery Current drain: Each time a vehicle electrical consumer is switched on eg, lights, current flows from the vehicle battery and causes it to discharge.
Car battery draining overnight ?
Faulty components can cause the battery to drain unintentionally ,examples are wiring shorts, defective alternator diodes, lights left on , etc.
Charging system failure
Dashboard Battery light On ? Breakdown coming soon !
If the battery is not being recharged as the vehicle is operated it will gradually drain until breakdown occurs.
Charging system failure can be caused by a faulty battery, loss of alternator drive due to fan belt failure , faulty alternator, incorrect voltage regulator setting, defective wiring, loose connections. Frequent short journeys can result in a vehicle battery becoming discharged due to insufficient recharge time following heavy discharge by vehicle starter motor.
For more information on battery charging systems see our Alternator page
Battery OverCycling
Each time a lead acid battery is discharged ,its plates expand and contract resulting in excess material being released and deposited at the bottom of the battery casing. This will eventually build up and cause a short circuit and premature failure.
The most common causes of battery overcycle are :
Incorrect battery for application.
Vehicle electrics fault (eg diesel glow plugs relay stuck on) Taxi or multi-drop vehicle use. Starter battery used for leisure application.
Some batteries are manufactured for this type of operation by fitment of glass wool between plate separators which holds active material in place to be absorbed back on to the plates when the battery is recharged.
Overcharging of the vehicle battery:
When the vehicle engine is running, it is the alternator which supplies power to recharge the battery. A failure in the alternator voltage regulation circuit can cause excess voltage to be applied to the battery. This causes decomposition of active material forming the battery plates , and also loss of electrolyte. It is often first noticed by a smell of 'rotten eggs' (hydrogen sulphide) , or by vehicle bulbs continuously failing. Fault codes may be logged in vehicle computer modules (particularly the SRS airbag module) referring to battery overvoltage.
Battery Recovery
A build up of Lead Sulphate crystals on the Lead plates can reduce surface area in contact with electrolyte inside the battery leading to loss of performance.
Use of a battery desulphator, which is a special type of battery conditioner developing a pulsed charging current may reverse the effect of sulphation.
Battery fitting guidelines
Installation Safety first
Safety procedures should be undertaken when storing , charging, fitting and removing vehicle batteries.
Dangers assosciated with vehicle batteries include Battery Acids and Explosive gases.
Eye protection and gloves should be worn during battery handling and fitting. Batteries should only be charged in a well ventilated area. Refer to http://www.hse.gov.uk/pubns/indg139.htm for further guidance.
Fitting a vehicle battery incorrectly can damage or destroy a vehicles electrical system.
Be Prepared : Have the radio code available and take note of any special procedures recommended by the vehicle manufacturer. Use a memory saver device to prevent loss of computer memories if possible. Disconnection of vehicle batteries can result in memory loss from some computerised vehicle systems for example body control modules.
Ensure all battery terminal clamps are clean and in good condition. Corroded or damaged battery terminal clamps should be cleaned or renewed depending on condition. On Negative ground systems always disconnect the Negative terminal first . When installing the new battery first fit the battery securing device. Then fit the Positive terminal first and ensure the terminal clamp is fully tightened before fitting the Negative terminal and tightening. Anti corrosion spray may be applied to the terminals according to manufacturers recommendation.
Safety reminder :
Vehicle Batteries may contain Sulphuric acid which can cause burns. Car batteries can emit hydrogen gas which is an easily ignited and explosive gas. Avoid flames & sources of ignition. Metallic objects in contact with battery terminals, and terminal disconnection / connection can cause sparks which may ignite hydrogen gas causing explosion. Avoid smoking and other sources of ignition. High currents can be discharged through metal objects such as jewellery causing burns. Batteries contain Lead and can be heavy.
Dispose of correctly.
Battery Charge Warning light operation
The battery charge warning light should illuminate when the ignition key is turned to on, but the engine is not running. Once the engine is running the battery charge warning light should go off.
Low battery voltage due to a failed battery or charging system may cause computer system fault codes to be logged which may need to be cleared using diagnostic equipment. Some vehicle computer memories are reset to basic setting by battery disconnection and may have an adaptive learning period after the vehicle is restarted . Dual Batteries, Split Charge, Battery Backup etc. Link: For more information about auxiliary battery charging systems visit our Onboard Power page
Battery Banks
There are times when increased battery capacity is required to power extra auxilliary equipment. Batteries wired in series increase voltage, Batteries wired in parallel increase current.
Battery Management System
Battery management systems may be fitted to certain vehicles.
Advanced battery charge management equipment is often fitted to special purpose vehicles such as ambulances ,fire engines, military , breakdown vehicles, motorhomes , leisure and marine equipment. This may require fitment of advanced voltage regulation devices, to optimise battery charging, together with additional batteries and switchgear.
BMW idrive. An Intelligent Battery Sensor (IBS) may be fitted in the Negative lead to monitor battery condition including State of charge and battery health, voltage , current, temperature, sometimes resulting in increased battery discharge message to be displayed.
Battery Configuration
On newer vevicles using Intelligent Stop Start (ISS) systems battery configuration may be required if a battery is replaced to "register the new battery" using vehicle diagnostic equipment to enable the battery charging system to operate correctly. Following battery replacement other vehicle software may need fault codes reset.
Vehicles with computers
Removal of vehicle battery may cause computer coding to be lost and require vehicle configuration with diagnostic software after the battery is replaced.
Most vehicle computer systems are sensitive to battery and charging system voltage levels which if outside of set parameters may cause inconsistent operation.
Computer control modules often form part of a network so any fault detected by one computer may be logged on other computers as a safety measure.
Airbag systems are particularly sensitive to low battery voltage.
specific connection points and manufacturers procedures should be used if boost starting.
Auxilliary Batteries
Typical situations when an auxilliary battery is useful
Commercial vehicle on multi drop distribution fitted with a tail lift :
Extra batteries are fitted recharged by a split charge system via voltage sensitive relay to power the tail lift equipment which is isolated from the main vehicle starter batteries whilst in use.
Should the Auxiliary batteries become discharged the vehicle can still be started on its normal batteries and the auxiliary battery be recharged with the engine running. Caravan fitted with deep cycle leisure battery for internal lighting etc: The towing vehicle is fitted with a split charge relay to enable the leisure battery to be recharged as the vehicle is driven. An inverter may also be fitted to supply electricity at higher voltage for mains appliances, and possibly mains or solar powered battery charging equipment. Breakdown vehicle fitted with auxiliary batteries to enable dead vehicles to be boost started without leaving the breakdown vehicle immobilised due to a discharged battery. Marine craft fitted with a dual battery system so that the vehicle can still be started should one battery become discharged or fail whilst out at sea.
Ohm and Peukert
A web page about batteries would not be complete without mentioning Ohm's Law and Peukert's Law. Ohm's denotes the relationship between potential difference (voltage), flow of electrons (current) and resistance. Peukert's research investigate Lead Acid battery characteristics.
24 Volt Systems
Linking of two 12 volt heavy duty batteries in series is commonly used to attain 24 volt system requirements on hgv heavy goods vehicles and heavy plant hire equipment.
Hybrid Combustion engine / Electric Vehicles
Hybrid vehicles have the best of both worlds!
Hybrid Vehicle Batteries
Hybrid vehicles use battery packs with much higher system voltage than older engine driven vehicles.
Hybrid vehicle batteries often use Nickel Metal Hydride cells welded together to form a large high voltage battery pack of up to around 600 volts.
High capacity Lithium Ion and Cobalt dioxide batteries are being developed for newer vehicles.
Benefits of Hybrid vehicles
Low noise
Little or no exhaust emissions.Electric Hybrid vehicles are designed to reduce harmful exhaust emissions.
Electric motor torque increase with rpm speed so constantly variable transmission (CVT) can be used
Recharging possible by alternative energy sources and regenerative braking
Increased fuel economy when a hybrid vehicle has both electric motor and engine.
Increased battery lifespan of around 100,000 miles
Problems associated with Hybrid vehicles
Complex electronics increase wiring and cable quantity with risk of battery drain faults
Time taken to recharge batteries
Size and Weight of batteries.The hybrid vehicle battery has to power large electric motors so requires increased capacity. Increased battery size means increased storage area requirement for the battery pack.
Cost of raw materials to manufacture batteries result in high cost of hybrid propulsion batteries
Electric vehicles have limited vehicle range before the battery discharges which could leave you broken down in remote areas with no local electric vehicle battery charging facility. Hybrid vehicles overcome this problem by also having a petrol or diesel engine.
High voltage equipment presents safety issues such as risk of electrocution
Waste battery disposal falls under Waste Electrical and Electronic Equipment regulations (WEEE) attaching responsibilities to the vehicle manufacturer, battery producer , dismantler and owner. Other disposal of vehicle components falss under end of life vehicle legislation . Waste disposal cost may increase the initial vehicle purchase price and require specialised waste disposal facilities.
Waste Battery Disposal
Waste Batteries classify as Hazardous Waste
Dispose of your disused vehicle battery correctly. If you are located in Shropshire, Car batteries can be taken for disposal at local authority waste sites or disposed of through your battery supplier.
Battery Manufacturer & Waste Disposal Links: Yuasa Bosch Varta G & P Batteries ; disposal & recycling