Refuse Truck Binlift Electrical Specialist Repair Services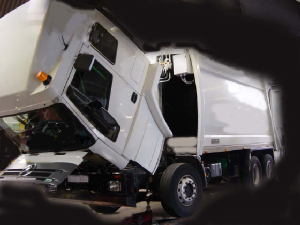 Fleet Maintenance Contractor Service Engineers to :
Local authority and Municipal Utilities providers
Waste recycling contractors
Vehicle Hire Companies
Environmental maintenance and recycling equipment users
Independant Service engineer trained on Electro-hydraulic equipment for Commercial Vehicle & Municipal Vehicle.
Specialist Electrical & Hydraulic repairs to Refuse Vehicle & Recycling equipment
including
Dennis Eagle, Norba RL35 , Heil Powerlink, Ros Roca, Semat, Schorling, Terberg, & Zoeller Bin lifting machines.
Bin lift Operation
Manual
Manual bin lift mode operates by pressing up / down button controls or hydraulic valve lever controls at the operator control station which sends electrical signals via control board relays to electro hydraulic solenoids at the hydraulic valve block causing hydraulic spool control valves to open / close allowing high pressure hydraulic oil flow from the truck power take off hydraulic pump to the hydraulic binlift rams or tilt motor allowing a waste bin to be raised tipped and emptied into the truck body.
Automatic
Automatic bin lifting mode operates to lift and tip the bin when a wheelie bin is pushed against a sensor actuator arm
Security of bins relies upon correct setting of clamp gaps to avoid bins being released from lift during lifting operation. Automatic operation of bin lift requires all sensors to be operational. A failed sensor can stop auto function.
Inputs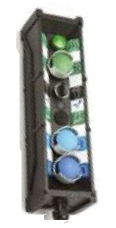 Digital Input signals are taken from user controls such as Up or Down Control Station , Emergency Stop Switches, Proximity Sensors.
Proximity Sensors
Proximity sensors detect position of objects.
PLC Logic Processing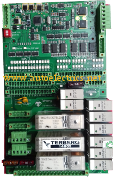 Processing of input signals is done by a main programmable logic control (plc) board such as Part No 14803 to provide outputs. Failure of Inputs, power supply, wiring, or output faults can cause processor board to stop working. Processor boards are generally housed in steel or plastic enclosure for protection against moisture and chemicals.
Outputs
Output signals energise solenoids on hydraulic valve block to allow lift to raise or lower.
Revs raise : A signals is sent to increase truck throttle revs as pto operates and flow from pto hydraulic pump circuit to be directed to services.
Packer Start : A packer start signal may be sent from a manual push button switch or from the control board to signal start of refuse body waste packing operation.
Hydraulic Pump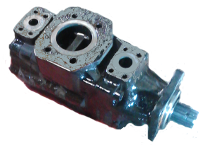 The hydraulic pump draws hydraulic oil from the hydraulic reservoir tank via hydraulic hoses and steel pipework and filter assembly.
High pressure is generated by the hydraulic pump to cause hydraulic oil to flow to the hydraulic control valve block. The hydraulic pump may be driven from a power take off point at the truck gearbox or from front engine cranksaft pulley. The hydraulic pump may be fitted with electro mechanical clutch to engage or disengage drive, or may be piped vi a hydraulic bypass valve which returns hydraulic oil directly to the hydraulic oil tank to take the system off load when not in use.
Bin Lift Clamp Gaps
Many bin lifts operate by clamping of part of the waste bin. Incorrectly set clamp gaps or worn lifting equipment can cause the bin to be thrown off the lifting equipment as it is raised.
Always set clamp gaps to equipment manufacturers specification and inspect regularly.
Crash damage to binlifts may cause structural damage to the lift leading to failure to clamps.
Legal Compliance
In addition to the Health & Safety at Work Act (HSAWA) 1974, Bin lift equipment used in the UK must comply with Lifting Operations and Lifting Equipment Regulations (LOLER) 1998, and with Provision and Use of Work Equipment Regulations (PUWER) 1998.
Only trained personnel should operate or maintain lifting equipment.
LOLER 1998
Lifting Operations and Lifting Equipment Regulations (LOLER) 1998 cover the structure and integrity of lifting equipment and inspection requirements.
PUWER 1998
Provision and Use of Work Equipment Regulations (PUWER) 1998 covers warning labelling of lift equipment.
All switch controls should be labelled to comply with PUWER 1998 regs and functional, including emergency stop circuits.
Any manufacturers brand names, part numbers, trademarks used on this website are used for reference only and as such respected as property of their relevant owner and no assosciation or affiliation is intended
Service maintenance and repair contracting is only undertaken in accordance with our terms and conditions of trading which can be found by clicking the link marked "terms" above.